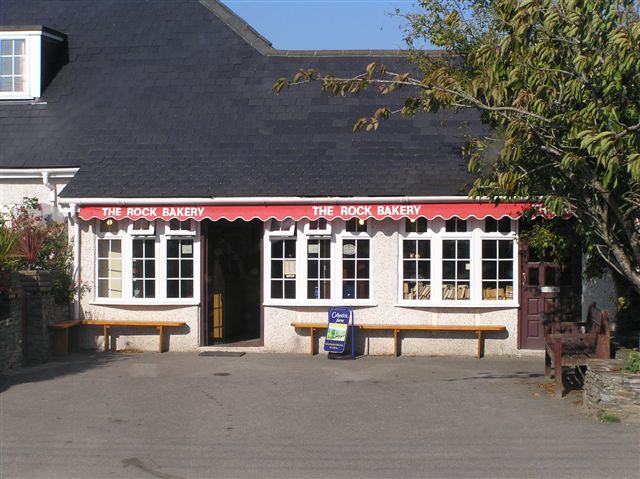 Rock enjoys the benefit of about a dozen different shops. Among the most famous is The Rock Bakery where you can buy freshly baked bread, rolls, pasties, cakes etc. It is also a fine place to meet your friends in the queue which forms every morning between 8.00 and opening time at 08.30. Take a tip from us and pre-order your bakery items the day before so they are ready for collection when you arrive.
Next door is the excellent John Watts butcher, where you will enjoy excellent quality meats and the staff are happy to give advice on your meal items. We often get our barbeque items here as they are of such good quality.
Next shop along is the famous Di's Dairy where you can go for specialist cheeses and other fine foods and for the more exotic special cullinary items.
Across the road is the Fish Shop where you can buy fresh local wet fish, often caught by the Rock, Padstow or Port Isaac boats.
Adjacent is the new Moods, an interior design shop.
Back across is the Spar Shop - open for long hours seven days a week where Malcolm and his staff stock all the essential items which save you driving all the way to Wadebridge for a big supermarket shop. The Spar also sells Wines and Spirits.
Grumpy's is the only fish and chip shop in Rock with a friendly staff that bely the name. Good portions at sensible prices, but watch the opening hours which can catch out the unwary, with early closing times, especially in the winter.
That is just a small sample, since we also have the Clock Garage petrol station, Rock Electrical, Rock Household and Leisure and the Rock Post Office. Newslines the newsagent is the place for papers, magazines, cards and sweets. For the affluent among you there are five or more clothes shops and several cafe's and restaurants - of which more later - and even a hairdresser and sandwich bar.